Who Is Wilson County?
Wilson County is from Seguin, a small town in South Central Texas, about 35 miles east of San Antonio, and they are beginning to turn heads on a global basis. Wilson County songs have been described as "America meets The Eagles."
In a sea of mediocre Alt-Country, Americana bands, Wilson County stands out not only because of their magnetic twist of folk-rock, country, blues, and bluegrass influences or their layered three-part harmonies but their ability to capture a moment in a song like a snapshot, but often revealing something deeper, that sets them apart. Their songs are lyrically simple but emotionally complex.
Their self-released debut album"C.R. 434"  was very well received as evidenced by the 5 Star review given by Dixie McCorkel, CMA/CCMA/ECMA, of Triple Strand Productions: 
"Fabulous first album--can't wait to hear the rest! Great songs guys. I'd love to play some of these on my syndicated show "Country Legends In The Making" that reaches 400 am/FM stations around the world."
This is what some of Wilson County's fans have to say:
"Thank you for the wonderful celebration of your C.R.434 CD at the Court Street Coffee Shop in Seguin, TX, which was filled to capacity by cheering fans enjoying your highly-entertaining music of well-written songs!! I am so happy to keep the memory through my purchase of your CD!"
-Laurie Boetchler
"Oh my gosh! In a world where there are so many, many different types, styles, and frankly just " noise " it's so, so cool to hear ya'll playing something that I can really enjoy hearing over and over again. A helluva sound for sure, Encore! Encore"       
- Dixie Luper 
"Awesome, I love the harmony and great music."       
-Billy Patterson
 Y'all just keep me wanting more and more! Never stop the music!! 
-Bk Byrne
Wilson County, such friendly folks! I am so impressed with your music... music is your superpower... and being friendly! It's a win-win combination!!!
-Joanie Allberry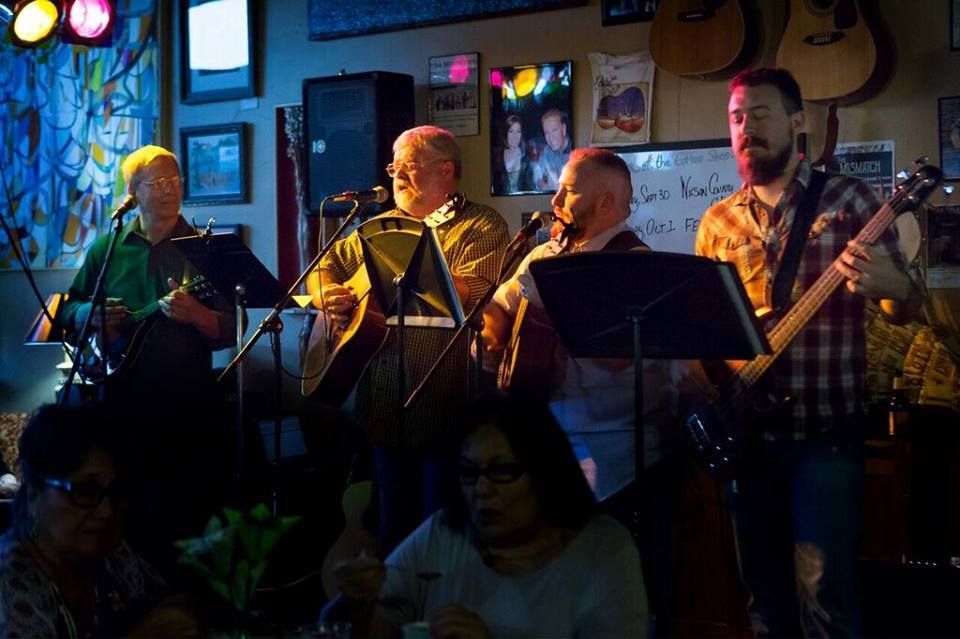 Wilson County has four members. Bill Salt and Jeff Ray are the co-founding members and were later joined by Bruce Hartwig and Brady Renner.
Bill plays rhythm guitar and sings lead (sometimes) and background vocals.
Jeff plays rhythm guitar on some songs but he is our golden voice! He captures so much of what a song is about with his incredible voice! Jeff is married to Bill's middle daughter, Brynn.
Bruce plays... well, if it has strings, I think Bruce can play it! Bruce plays lead guitar, both acoustic (6 and 12 string) and electric, mandolin, lap steel, dobro, and a little banjo! He also is a critically important part of Wilson County harmonies.
Brady plays bass and even with the addition of drums, he continues to be the heartbeat of the band. Brady is married to Bill's youngest daughter, Blair.
Now, all y'all go listen to some Wilson County music and feel a thought!